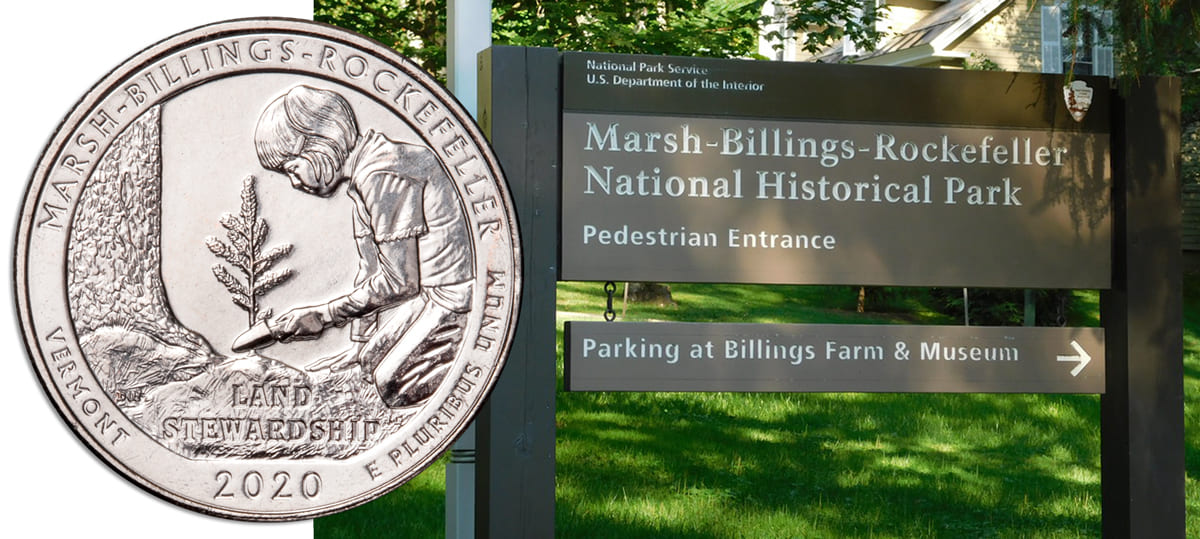 The new Marsh-Billings-Rockefeller National Historical Park quarter, 54th in the series and fourth to debut in 2020, is in circulation as of August 31.
Located in Woodstock, VT, the working farm and woodlands opened as a national park in 1998. Its mission of land stewardship is the legacy of three distinct generations of owners. It began with George Perkins Marsh who, as a youth growing up on the farm in the very early 1800s, observed the effects of soil erosion that resulted with the deforestation of woodlands. The next owner, Frederick Billings, actively implemented a variety of stewardship programs that included reforestry and selective logging methods. The third owners, Mary French Rockefeller, a Billings' granddaughter, and her husband, Laurence S. Rockefeller, opened the Billings Farm and Museum to make available to the public the methods and results of the successful dairy farm and working woodlands.
The 2020 quarters honor some of America's most popular national parks: Weir Farm National Historic Site in Connecticut; Tallgrass Prairie National Preserve in Kansas; National Park of American Samoa in the South Pacific, and Salt River Bay National Historical Park and Ecological Preserve in the U.S. Virgin Islands.
This detailed Marsh-Billings-Rockefeller National Historical Park quarter can be nicely paired with the 2001 Statehood quarter for Vermont. Order today.