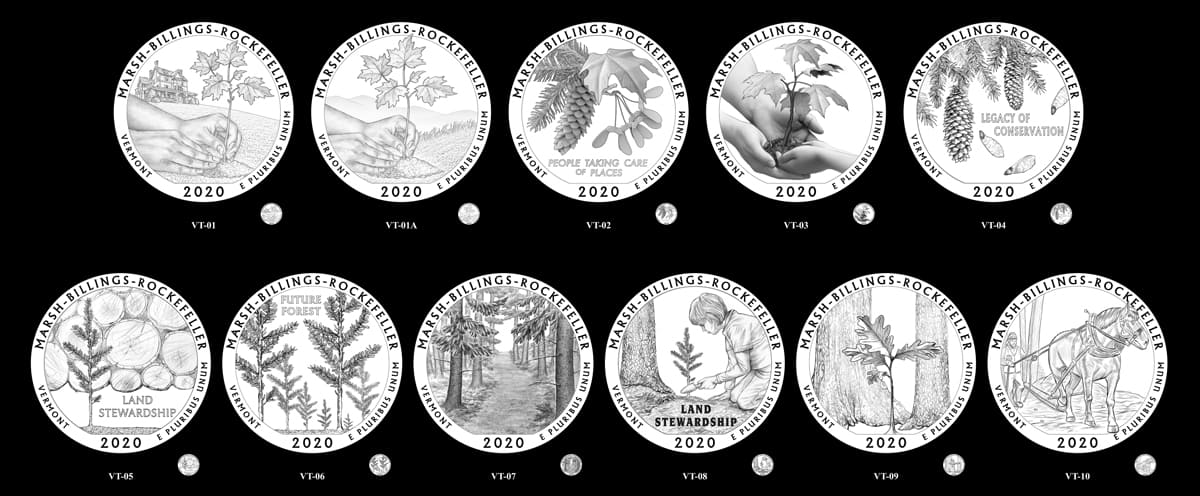 In 2018, the U.S. Mint commissioned its artists to create candidate designs for the Marsh-Billings-Rockefeller National Historical Park in Woodstock, VT. Eleven were reviewed for accuracy, edited, finalized, and then presented to the Citizen Coinage Advisory Committee and Commission of Fine Arts.
Two reverse designs featured a sugar maple sapling being planted by a pair of hands; one had the Marsh-Billings-Rockefeller Mansion in the background, the other Vermont's mountains.
A third design featured branches of a Norway spruce and a sugar maple with seeds, with the inscription people taking care of places.
A fourth design showed a sugar maple seedling passing from the hands of one generation to the next to symbolize stewardship and the sharing of natural resources.
A fifth depicted branches of a Norway spruce, with the symbolic release of seeds from the cones and the inscription legacy of conservation.
A sixth featured a Norway spruce seedling against a backdrop of horse-logged spruce and the inscription land stewardship.
A seventh showed Norway spruce saplings representing the reforestation of Mount Tom with the inscription future forest.
An eighth design depicted a carriage trail through a planted Norway spruce forest.
A ninth featured a young girl planting a Norway spruce seedling near an established tree to promote a sustainable forest for future enjoyment and education. It was inscribed with the words land stewardship.
A tenth design showed a young oak seedling next to a maple and a Norway spruce. Both were drawn to represent 150 years of environmental conservation and land stewardship throughout the park.
The final reverse design depicted a new-old method of horse logging, one of several different timbering methods used within the park.