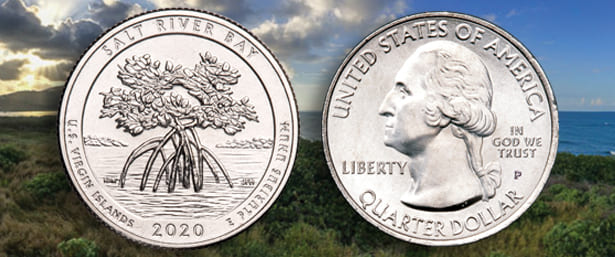 The new 2020 Salt River Bay National Historical Park and Ecological Preserve quarter, the 53rd issue in the 2010-2021 National Park quarter series, has been released and is now in circulation.
This third new quarter design for 2020 features Salt River Bay, a federally protected are on St. Croix in the U.S. Virgin Islands. A site of natural and historical significance, Salt River Bay preserves mangrove forests, upland watersheds and a delicate ecosystem that supports threatened and endangered species. The bay also contains archaeological and historical sites spanning over 2,000 years of human habitation in the Virgin Islands, including the only known site where members of a Christopher Columbus expedition set foot on what is now U.S. territory.
The reverse of the new quarter depicts a red mangrove tree in an early stage of maturation from a small plant to an adult tree. The design brings awareness to Salt River Bay's endangered mangrove forests and their complex root structures in salt water. The 2020 Salt River Bay quarter can be paired with the 2009 U.S. Virgin Islands quarter.