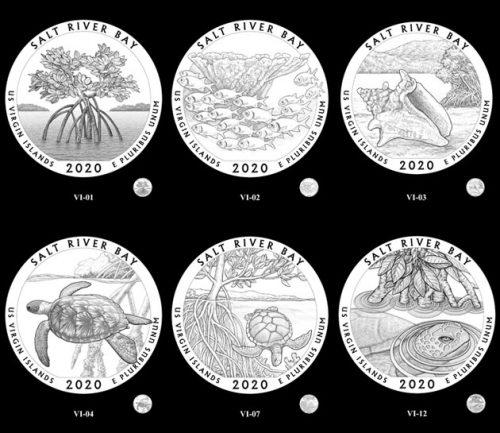 Numerous design proposals for the reverse of the 2020 Salt River Bay National Historical Park and Ecological Preserve quarter were submitted to the U.S. Mint for consideration. The proposals are evaluated by the Citizens Coinage Advisory Commission (CCAC) and the Commission of Fine Arts (CFA) for their emblematic representation of the featured site of national interest.
Salt River Bay in the U.S. Virgin Islands contains a delicate ecosystem that supports threatened and endangered flora and fauna including mangrove trees that live in coastal waters and protect the shoreline from erosion. The bay also features archaeological and historical heritage encompassing over 2,000 years of human habitation in the Virgin Islands, including the only known site where members of a Christopher Columbus expedition set foot on what is now U.S. territory.
The coin design proposals chose to emphasize the ecological importance of Salt River Bay and featured mangrove trees as well as turtles and fish swimming among the mangrove root systems. The CCAC and CFA will make recommendations on the coin designs to the Secretary of the Treasury who will make the final decision after consultation with representatives of the Salt River Bay national site.