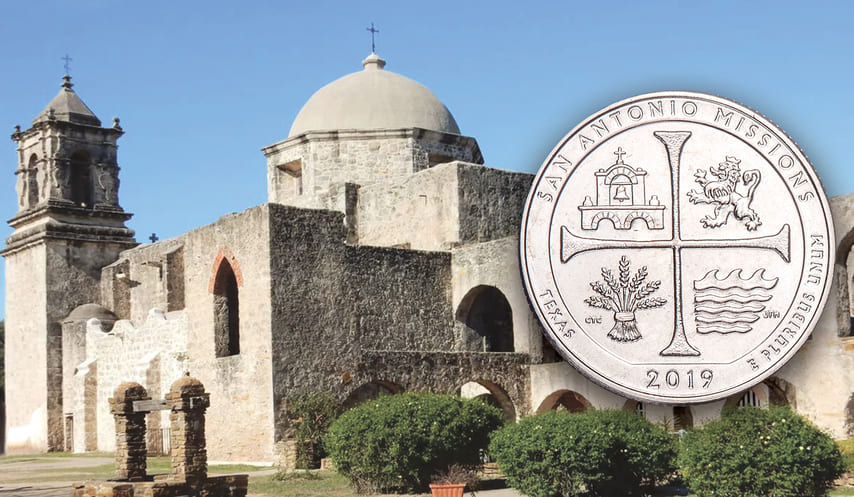 The new San Antonio Missions National Historical Park quarter, 49th in the series and fourth of five to debut in 2019, is in circulation as of August 26. Included among those quarters issued by the Denver and Philadelphia Mints are some of the 2 million San Antonio Missions quarters struck at the West Point Mint.
A UNESCO World Heritage Site, the San Antonio Missions National Historical Park is spread across nearly 819 acres in south-central Texas and along the San Antonio River. Founded by various Spanish Catholic orders to spread Christianity across the southwest in the late 17th and early 18th centuries, the oldest is Mission Espada. It was established in 1690 near present-day Augusta, but was relocated to San Antonio in 1731 where Franciscan friars that same year built the Espada Aqueduct to supply irrigation water to nearby farms. Both Mission Concepción and Mission San Juan were established in 1716 in East Texas and moved to San Antonio in 1731. Mission San Jose was established in 1720 and its church was built in 1768. Each missions' toolmaking, carpentry, looming, spinning, and masonry helped make them self-sustaining.
The 49th national historical park quarter pays homage to this heritage with a reverse design that shows elements of the Spanish Colonial Real coin. Within the four quadrants are symbols of the missions: wheat for farming; the arches and bell for community; a lion representing Spanish cultural heritage, and a symbol of the San Antonio River representing irrigation methods and the life-sustaining resource of water.
The 2019 quarters honor some of America's most popular national parks: Lowell National Historical Park in Massachusetts; the War in the Pacific National Historical Park in Guam; the American Memorial Park on the island of Saipan in the Pacific Ocean's Northern Mariana Islands, and the upcoming Frank Church River of No Return Wilderness in Idaho.
This detailed San Antonio Missions National Historical Park quarter can be nicely paired with the 2004 Statehood quarter for Texas. Order today.