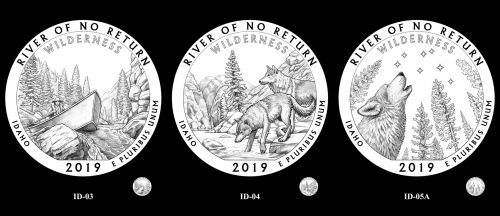 During September 2017, the Commission of Fine Arts (CFA) and the Citizens Coinage Advisory Committee (CCAC) reviewed 21 design proposals for the reverse of the new 2019 Frank Church River of No Return quarter. This coin will be the 50th issue of the 2010-2021 National Park Quarter Series, featuring the largest contiguous wilderness area in the lower 48 states and containing steep rugged mountains, deep canyons, wild whitewater rivers and coniferous forests.
The CFA recommended design #4 depicting a pair of wolves about to cross a river, with trees on a rocky slope and steep cliffs bordering the river beyond. This design was also preferred by officials of the Frank Church River of No Return Wilderness. The CCAC recommended design #5a depicting a wolf howling against tall conifer trees and a star-filled sky. Additional design proposals included river canyon views, boats and rafts on a river and a variety of other images depicting wolves in the wilderness.
After consideration of the recommendations by the CFA, CCAC and wilderness officials, the U.S. Mint submitted a selection of favored designs to the Secretary of the Treasury – who will choose the final design for the reverse of the 2019 Frank Church River of No Return quarter.